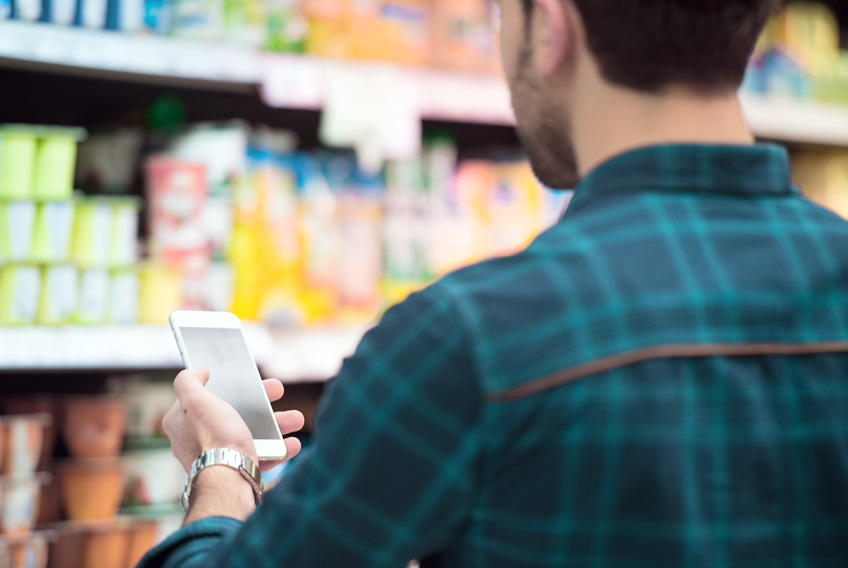 By Vahagn Aydinyan
We use or mobile phones for a growing number of things: reading the news, listening to our favorite music, even shopping for different kinds of products. Savvy marketers and business people are seizing the boundless opportunities of the expanding mobile world, optimizing their digital content to rank better on search engines as well as utilizing SMS marketing strategies and NFC technology to make it easier for customers to receive relevant information.
That being said, shoppers are always one step ahead of the curve, so there's still plenty of room to innovate. Data also shows that mobile usage is not category specific, i.e. shoppers for all sorts of products and services use their mobile devices while in-store.
Here are a few reasons to make mobile in-store usage a priority for your business:
Make Mobile Complement the In-Store Experience
Mobile shopping has become an extension of the traditional retail experience. Google survey from 2013 shows that 84 percent of smartphone shoppers use their mobile devices to help shop while in a store.
Common consumer activities include using mobile devices to compare prices, search for product info and customer reviews, and hunt for coupons and promotional deals. Moreover, roughly 25 percent of shoppers have used their mobile to make a purchase while in-store. This can be also a threat for a specific brand if there is no relevant content convincing customers that it is the right product to buy and there is no better place to buy it. That can be made possible by making relevant information available for mobile users; via online content, text messaging, NFC tech, apps etc.
Lesson: Optimizing your store for mobile usage will help you take advantage of modern shopping habits.
The Necessity of Mobile-Targeted content
The in-store mobile trend is nothing to be afraid of, provided you take steps to optimize. The first step is to create relevant content and make it as easy to find as possible. When customers look for more information about the product they reach their smartphones and Google it. They spend a lot of time by going through different type of content including reviews and instructions. This means that it will be effective to have a relevant search engine optimized content giving all necessary answers for a specific search query.
Another way to help them to find relevant information in few seconds is optimizing your store information delivery process using near field communication (NFC) technology. NFC allows customers to instantly access specific product information (descriptions, reviews, price comparisons, etc.) simply by tapping their mobile device on an in-store kiosk. You want customers to learn about products and increase sales? NFC is a way to make that happen.
Lesson: Customers look for more relevant and detailed content and the best way to fulfill that need is to concentrate on mobile.
The best aspect of in-store mobile usage is that it puts the ball in your court. By reaching out with targeted information, coupons, and offers, you can keep the customer's attention on your products and services.
Recent research showed that 33 percent of shoppers use their phones to find product information rather than ask a shop consultant for help. Why not engage them through their preferred medium?
Mobile marketing allows you to provide relevant information via easy information delivery methods— search engine optimization, text messaging and NFC optimization. Online search is obviously is the most popular method of searching information, however, there are great alternatives like SMS and NFC optimization which can also create an outstanding customer experience.
At TTAG Systems we can help you to implement custom integrated SMS+NFC+MMS+Web Marketing Campaigns of any complexity. Let our experts bring your business to the next level. Contact your Toronto SMS Marketing experts today for your next project.
---
By Vahagn Aydinyan You don't need to be told that your apparel store faces some stiff competition, both from neighboring retailers and online stores. While the fashion and clothing industry... Read Article
By Vahagn Aydinyan It's February, meaning the Mobile World Congress 2016 is finally here! This year the event will be held in sunny Barcelona, Spain and bring together roughly 800... Read Article
Latest Posts
January 24, 2018 / Near Field Communications (NFC)

It's an exciting time in the world of Apple products. With decades of innovation and wild success under their belts,...

January 11, 2018 / SMS Marketing

Despite the prevalence of mobile apps and with nearly everyone in the world owning a smartphone, using a text message...