Every day more organizations and companies are adopting SMS for customer service. This isn't too surprising since roughly 91 percent of the world adult population owns a cellphone, making mobile the dominant form of co...
Read article
In emergencies, the most important factor that will ensure safety is getting information out to the people who need it. For fire alarms, lock downs or other safety drills, it's essential that people in the building kno...
Read article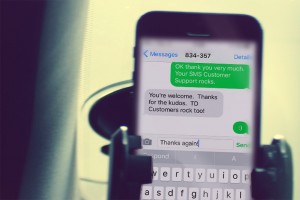 If you are just thinking of launching your short code SMS Marketing program there is a chance you'll stumble upon definitions that might be confusing. Canadian short codes and marketing programs running on those short co...
Read article
On almost a daily basis, everyone interacts with some method of spam, especially in the form of email scams (phishing) or telephone scams (vishing). These scams are commonly used by fraudsters to trick people into giving...
Read article
Latest Posts
January 24, 2018 / Near Field Communications (NFC)

It's an exciting time in the world of Apple products. With decades of innovation and wild success under their belts,...

January 11, 2018 / SMS Marketing

Despite the prevalence of mobile apps and with nearly everyone in the world owning a smartphone, using a text message...