By Vahagn Aydinyan
Communication is king in today's knowledge-based economy. Getting results mean efficiently exchanging information with employees, whether by giving instructions or receiving valuable feedback.
The classic tools for internal communication are email and intra-office telephone systems. These tools serve their purposes, but SMS offers features they simply can't match. Let's go through few examples:
In-Advance Notifications
Whether we're talking about monthly closures, important deadlines or intra-company events, you always want to plan in advance. Communicating with employees in a timely manner about events and initiatives makes your company better organized, which in turn yields enhanced productivity and a more satisfied workforce.
For example, you can send employees text messages informing them about upcoming office closures or maintenance activities, therefore avoiding office arrivals on closed days. This saves time and makes everyone happier.
Emergency Notifications
The definition of an emergency is that you won't see it coming. That's why you need to put in place a comprehensive plan for when the unexpected strikes. Here are a few types of emergencies that require instant instructions and updates:
IT problems (viruses, downed serves, etc.)
Hackings, robberies
Natural disasters and/or fires
Sending emergency emails to hundreds or even thousands of employees is not a comprehensive plan. Why? Email open rates are surprisingly low, even for internal communications.
Fortunately, there's a solution. Text messaging delivers information faster than any other means of communication.
Live Audience Communication
Putting on a great live event means getting your audience involved—in this case, your employees. This happens when audience members are encouraged to provide feedback, answer pop-quiz questions, and engage directly with the presenter.
SMS technology provides an easy, efficient, and inexpensive means to get everyone's interactive energies flowing.
It lets the speaker engage with the audience on a horizontal level by sending direct questions, gaining insights into relevant topics, and prioritizing audience interests and needs.
You can even organize Q&A sessions through SMS polling, which allows the speaker to more efficiently field and answer questions from employees.
Surveys
Top-down business models simply don't work. Competitive businesses are those which give a voice to each and every employee, ensuring that ground-level insights factor into the decisions made by top management.
Text message surveys are effective for receiving valuable feedback from employees. You can design an SMS survey in a matter of minutes and send it to your entire staff; high open rates and the ease of responding mean you should get the information you need in time.
Ongoing Interactive Information
Interactive text messaging tools are useful for fostering better communication between in-office and offsite workers. Sales workers, delivery guys, pest control specialists, freelancers, and other offsite workers need to maintain regular communication with the head office.
Text messaging offers the fastest, most efficient tool for sending notifications, instructions, and reminders. Your offsite workers will have everything they need to perform a job well done.
Stuck with technology? At TTAG Systems we can help you to adopt technology easier and faster for you and your company. Let our experts bring your business to the next level. Contact your Toronto SMS Marketing experts today for your next project.
---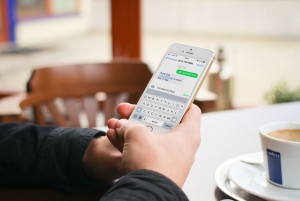 By @TechnoloJen Back in 2011, industry experts predicted that there was a possibility SMS would die in the coming years. It was feared that the increasing number of mobile apps,... Read Article
This article has been originally published on Mobile Marketing Watch on November 15, 2016. The following is an exclusive guest contributed post from Tim Fujita-Yuhas, Director of Product Management and... Read Article
Latest Posts
January 24, 2018 / Near Field Communications (NFC)

It's an exciting time in the world of Apple products. With decades of innovation and wild success under their belts,...

January 11, 2018 / SMS Marketing

Despite the prevalence of mobile apps and with nearly everyone in the world owning a smartphone, using a text message...